We have tested many different news-readers, and in our opinion, Express NewsPictures is by far the easiest for the novice to set up and use for viewing pictures. (It is shareware, and you will need to purchase it if you continue using it beyond the 30 day trial period.) Â Our support page lists other newsreaders, including several free programs. You could even use Outlook Express, which is probably already installed on your computer.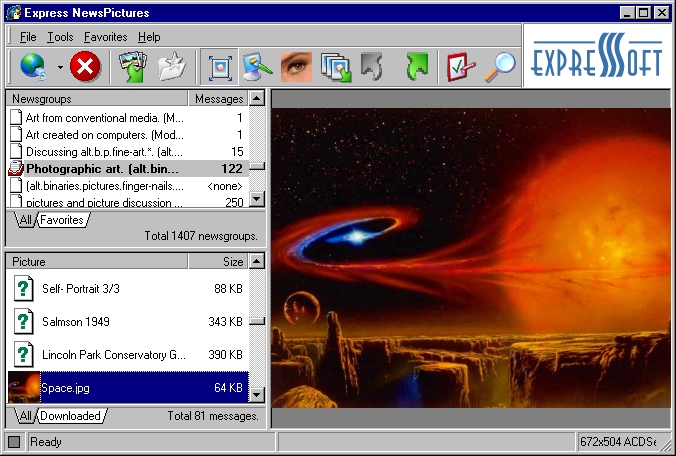 Follow these simple steps, and start viewing files in minutes:
When you launch Express-news for the first time, you will need to provide the following:
We recommend this starting with news server name: alt.anarqy.com


CHECK the box Authentication Required, and fill in the username and password that you were assigned when you subscribed
PLEASE enter information absolutely correctly. Failure to do so is the cause of problems 99% of the time.

IMPORTANT: your username must be in the form: username@node1

(You most likely do not need to use the PROXY settings, unless you are connecting through a business network from behind a firewall in which case you will need to ask your network administrator for help)
Express NewsPictures immediately goes to work, getting a list of newsgroups which mainly contain pictures. It also shows how many articles each group currently has in it Click on a group which you would like to view, and NewsPictures immediately goes to work getting a list of the files containing pictures. Click on one of the article headings, and the picture will be downloaded and displayed, and also saved on your hard-disk in yourMy NewsPictures directory (or whatever directory you specify).